Courtesy Clevland Clinic Patient Stories
Nic Brown sat in isolation, struggling to survive on a ventilator, after being diagnosed with coronavirus. The one window he had to life outside his hospital room, became the most impactful window of his life. His caregivers in the medical intensive care unit (MICU) at Cleveland Clinic – where a dedicated team, including doctors and nurses, treat the sickest of the sick – used that pane as a channel for uplifting messages. "Every day I was there, especially when I was on a ventilator and full life support, the staff would write on the window the goals for me to try and reach each day," says Nic, who is no longer in intensive care. "They would encourage me. One day someone wrote, 'We will get you home.'"
Nic asked one of his nurses to help him write his message of gratitude on the glass door because he was too weak to do it on his own. To return the favor, Nic penned a letter to his care team as he was being moved from the MICU to a step-down unit at the hospital. An excerpt from the message reads:
"This has been the most impactful window in my life. On days when I watched you work hard to keep me and others alive unable to thank you for the time that you poured into me; although I will probably never get the chance to pour that same love and support into you, I want you to know that I think you all are rock stars. I watched some of you have good nights and some bad nights but what was consistent every night was that you care for people.
Today I leave this ICU a changed person, hopefully for the better, not only because of your medical healing and God's direction and guidance but with the fact of knowing that there are such wonderful people dedicated to the care and concern of others.
God bless each of you."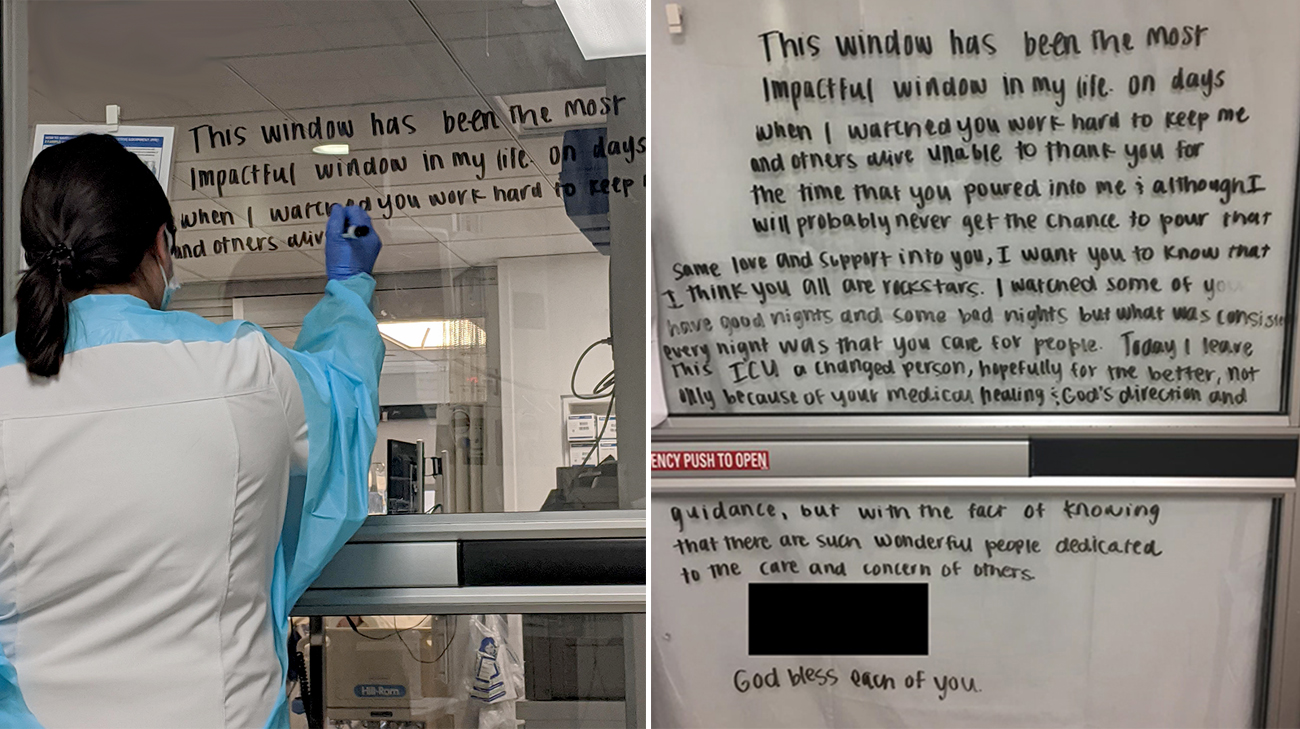 "Part of why I left the note on the window is because I don't know that I've ever seen such selfless people in my life. I really saw the love of God through them. They don't know me, but they cared for me like I was a member of their family. It's been life-altering," says Nic. Nic, a 38-year-old IT executive lives with his wife, Cassie, their son, and two daughters. He has no idea how he contracted COVID-19 in mid-March.
Nic was rushed to the MICU at Cleveland Clinic, where he was put on life support. "We live in a rural community, in Tuscarawas County. When I got a headache and fever, and then a cough, I thought I had the flu." But with a medical history that includes bouts with asthma and heart arrhythmia, Nic went to an urgent care near his home. Shortly after being given treatment for suspected pneumonia, he passed out. Nic was rushed a few blocks away to Cleveland Clinic Union Hospital in Dover, Ohio. There, he tested positive for COVID-19. Days later, after being rushed to the MICU at Cleveland Clinic's main campus, Nic was fighting for his life. "You really don't understand the vulnerability of the human body until you face something like this. There was a time during this process where the hospital reached out to my wife and had to have a discussion about end-of-life-options. My message is for everyone to take more seriously what the impact of this can have on a person."